Once you have determined the coaching stream that suits you and your skills, the first step is to contact us at [email protected] to register as a coach candidate. Please provide your name, Equestrian NS number (if available), and the certification in which you wish to register. There is no fee to register.
There is no timeframe for which to complete your certification. Whether you plan to move toward evaluation very soon, or years down the road, putting your name forward as a candidate will allow us to notify you of clinics, workshops, mentoring days and evaluations scheduled in your geographic area.
Once we receive your registration, we will set up an Equestrian NS coaching file and invite you to our coach classroom.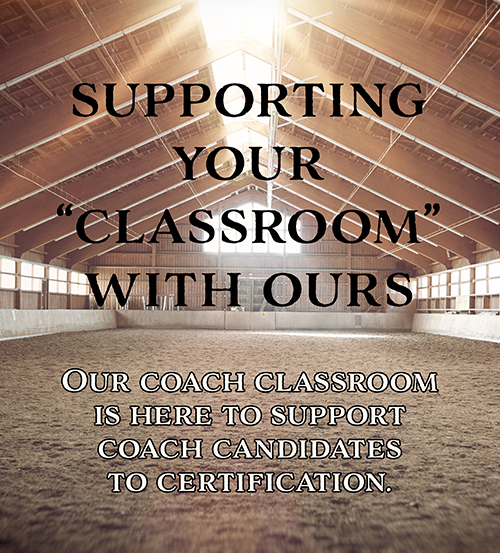 We have created a google classroom for each coaching stream/context to guide candidates through the pre-requisites and program requirements for certification. The classroom also includes "assignments" where you submit the pre-requisite information as you complete them. This helps show your progress.
Every context of coaching certification has several opportunities for training through the NCCP, Equestrian Canada and Equestrian Nova Scotia. The information is provided in our google classroom and our calendar of events. One time training opportunities will be announced in our classroom as well as in our social media.
Our Event/Education Calendar
Coach training and education events are listed on the our online event calendar, published in our e-news, on our social media, and announced in our coach classroom. Click here to view the online calendar.
Booking an Evaluation, Preparing & Evaluation Day Expectations
Once you have completed all required documents and training, you are ready to book your evaluation. An evaluation booking form can be completed in the google classroom, or you can review the events calendar on our website to see a list of upcoming evaluations and register for that evaluation.
Evaluation information is provided in our google classroom and through evaluation pre-briefs. On Evaluation day, you will be teaching lessons and performing specific tasks based on your certification context's specific criteria. You must meet the standard all outcomes of the evaluation to be granted certification.
Resources
| | |
| --- | --- |
| How to use the Locker | View |
Rubrics
| | |
| --- | --- |
| Drive Rubrics | View |
| Drive Teaching Topics | View |
| English Competition Coach Rubric | View |
| English Competition Coach Teaching Topics | View |
| English Instructor Rubric | View |
| English Instructor Rubric Jump Component | View |
| Eng Instr Teaching Topics | View |
| Western Competition Coach Rubric | View |
| Western Competition Coach Teaching Topics | View |
| Western Instructor Rubric | View |
| Western Instructor Teaching Topics | View |